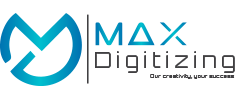 Digitizing
The first thing that comes in mind is what is digitizing? Digitizing is the complex process that is both an art and science. It is the procedure of changing an art work (logo/design) into the advanced digital frame. It is referred to the craft where, the text or an image is transferred or recreated, technically from analog form to digital form, into a stitch file that can embroidery machine sew. Digital form is where data is saved in the form of binary digits.

The logo/design will be allowed by various machines to embroider/stitch repetitively through digitizing software onto various apparels. It can be simple to exceptionally complicated process, depending upon the design and size of the artwork. This activity is as much an art form as it is a science for which skills and creativity are most vital things.

EMBROIDERY DIGITIZING
It is often misunderstood that embroidery digitizing is graphics designing. It is completely a different process. Special software's are used to generate codes for the design to be turned into stitches that can be read by embroidery machines. Everything from needle up n down to sew, embroidery machine do is programmed with in the design of your artwork. Even the thickness, spacing all are done through computer programming. Digitizing is also mistaken as a scanned process like screen printing, but it is far more complicated process for which you need years and years of experience to have good command on your work.

Clean and high resolution images are needed for the best results.